Sheboygan Chrysler Center Wins Customer First Award for Excellence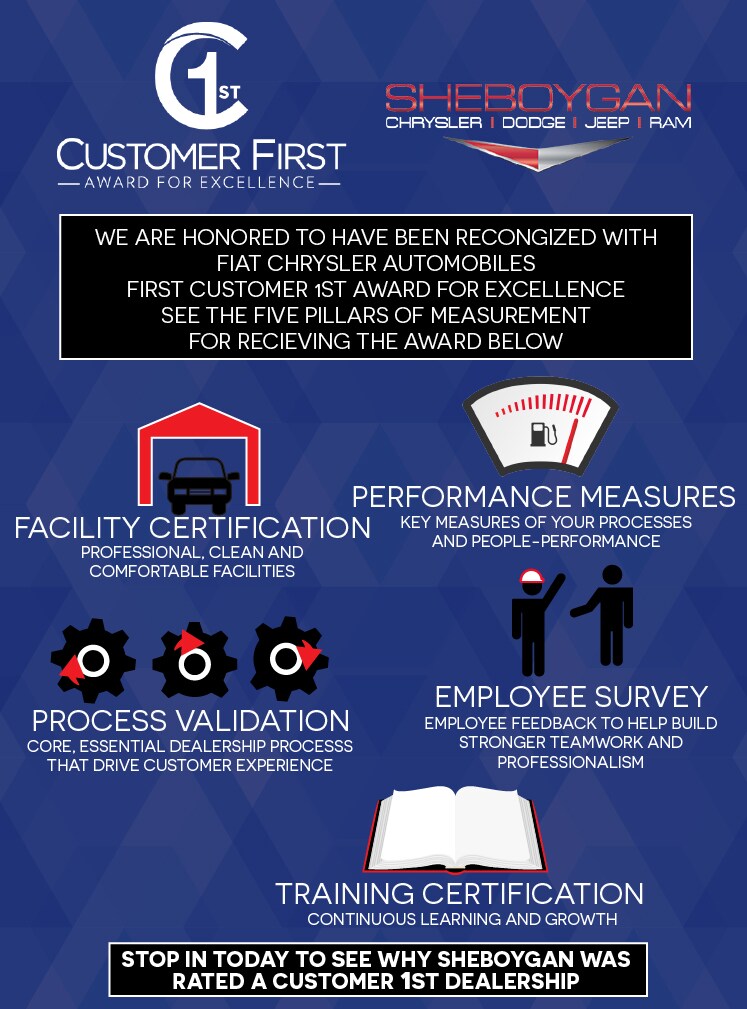 Sheboygan Chrysler Center is the proud recipient of the Customer First Award for Excellence. We are among the first dealerships receive the award from Fiat Chrysler Automobiles (FCA), putting us in a truly elite group.
Now, consumers can easily recognize our abilities to provide a higher level of service, both during the buying process and beyond. To qualify, we had to meet a rigorous set of standards from January 1 to June 30, 2016. The fact we could achieve these lofty goals proves that our dealership is one of the best in the nation.
Five different "pillars" were used to measure dealerships' performance. The first was facility certification. Our location had to be clean, so customers were not subjected to anything that would be considered a mess anywhere on the site. In addition, the facilities had to be comfortable for people as they spend time shopping for vehicles, or waiting for a car to be serviced. After all, if individuals feel accommodated, they're much more likely to return. FCA also measured how convenient the facilities services were. This certification is conducted every six months, ensuring the best experience possible for everyone.
We had to meet several performance measures to attain this prestigious award. Customers were given surveys asking about service and sales practices, with scores assessed for each dealer.
The third measure had to do with process validation. Mostly, this deals with how sales are negotiated, plus the method of delivering vehicles and following up with customers after a purchase to ensure there aren't any problems. All three can greatly enrich service and build loyalty.
An employee survey was another of the pillars. By providing an avenue for workers to provide feedback, management was able to boost the professionalism of the entire dealership. This exercise also worked to strengthen the spirit of teamwork.
Finally, the fifth pillar centered around training certification. Employees were expected to engage in continuous learning and growth opportunities. This helps keep knowledge relevant, because the market and even the vehicles we sell evolve and change on a regular basis. Parts and service employees also were required to meet minimum training requirements.
Ultimately, this means you can count on Sheboygan Chrysler Center to deliver a well-rounded experience, from shopping for a car and beyond.